Racedog DRAGON Open Back padded harness.
Available: 1 till 5 weeks.
Racedog DRAGON Open Back padded harness.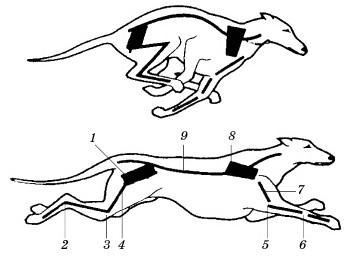 7- shoulder bone, 8- shoulder blade (scapula)
The peculiarity of the anatomy of dogs, unlike that of humans, is that dogs do not have a collarbone. The construction of the dog's shoulder-shoulder blade literally "floats", holding on to the spine and ribs only with the help of muscles and ligaments. This ensures maximum cushioning and flexibility of the front of his body during the race, with the shoulder blade rotating freely.
We have developed the DRAGON Open Back harness, which frees the dog's shoulder as much as possible, ensuring the dog free movement during the run. The dog can also bend his back freely, taking an unlimited wide step. For example, a special breed of sled dog - greysters formed by crossing greyhounds with other breeds, has a specific step inherent in jaguars and other fast runners - throwing the hind legs in front of the forelegs (see figure), so the angle of rotation of the blade during the run is maximum. In this case, harness DRAGON Open Back is maximally comfortable, convenient and practically irreplaceable, ensuring free movement of the shoulder and shoulder blade.
Harness also provides the widest possible contact area with the dog's chest, comfortable to pull. They are soft, padded, do not absorb moisture, dry quickly, anatomically adapted to the dog's body, easy to put on, hold well on the dog's body.
DRAGON Open Back are also recommended for any other breeds - sled dogs, hunting dogs, service dogs, water dog breeds, shepherd dogs, etc. - physical activities, running with a dog (canicross), bike pulling (bikejoring), as well as other sleddog sport disciplines, - scooters, carts, sleds - both in winter and summer season. They are also useful for any dog for simple walks, hikes, trekking, any activities - for you together with your pet.
Try and see for yourself the great features of the new generation harness Racedog DRAGON Open Back, created just for you!
BEracedog.lv

Ph. +371 25664539
Em. veikals@nomanis.lv